Last week was eventful for Derrick – so eventful that we weren't able to fit everything into our blog!
In addition to being featured in the New York Times City Room blog and receiving a call from Steve Smith, who encouraged his Twitter followers and Facebook fans to donate to the NYC Rescue Mission, Derrick also received a ticket to a 2011 season New York Giants game. Not only will Derrick get to attend the game, but he'll also have a chance to hang out on the field during practice. Thanks to Elliot Shriftman for making it all possible!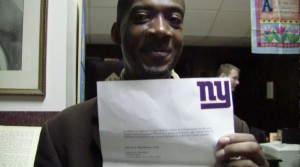 As if that weren't enough good news Derrick was able to line up three job interviews for this week, one of which contacted us to relay their offer to Derrick. Send some encouragement and good luck to @awitness2011 this week as he works these job interviews to his daily routine. We all hope that Derrick has good news to tweet by the end of the week!